Georgia hosts ECB forum; first time held outside Eurozone
Monday, July 6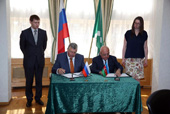 For the first time ever, the European Central Bank (ECB) selected a country outside of the Eurozone to host its User Group meeting.
Georgia was granted hosting rights of the July 2 Forum, which was attended by the National Bank of Georgia and banking executives from a number of central banks within the Eurozone.
The purpose of the Forum was to promote cooperation and partnership between central banks that use the portfolio management system and give participants the chance to share their experiences of using the system.
More than 30 central banks use the system worldwide. NBG has used this same system for international reserves management since 2011, like the ECB and most other Eurozone central banks.
The event was opened by the Vice Governor of the NBG Archil Mestvirishvili, who said: "It is very important to hold the Forum in Georgia, it emphasizes that the European Central Bank considers the National Bank of Georgia as a worthy and serious partner."
The Forum is held twice per year and the primary members of the group are central banks - members of the Eurosystem. Georgia and some other countries were invited as observers.
Christian Reynders, chairman of the User Group and head of Market Operations Systems at Directorate General Market Operations, said the Forum would promote cooperation between central banks. It would also "play an instrumental role in sharing experience and expertise necessary for successful IT product implementation and operation".
(Agenda.ge)