Inflation Rate in Georgia, June 2015 (Over May 2015)
Tuesday, July 7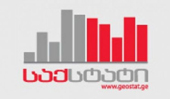 In June 2015 the monthly inflation rate in Georgia amounted to 0.02 percent.
Food and non-alcohol beverages: the prices for the group decreased 1.9 percent, contributing -0.59 percentage points to the overall monthly inflation. The prices were down for vegetables (-17.9 percent), milk, cheese and eggs (-1.4 percent) and fish (-1.1 percent). The prices increased for fruit and grapes (5.6 percent); Transport: the prices increased 3.1 percent, and the group contribution to the monthly inflation rate amounted to 0.35 percentage points. The prices rose for fuels and lubricants (6.9 percent).
Inflation Rate in Georgia, June 2015 (Over June 2014)
In June 2015 the annual inflation rate in Georgia equaled 4.5 percent.
Food and non-alcoholic beverages: the prices increased 5.7 percent over a year, contributing 1.66 percentage points to the overall inflation rate. Significant price gains were recorded for the following subgroups: fruit and grapes (35.0 percent), oils and fats (9.8 percent), coffee, tea and cocoa (7.9 percent) and vegetables (5.4 percent); Health: the prices increased 7.4 percent contributing 0.72 percentage points to the overall inflation. Within the group the prices rose for medical products, appliances and equipment (15.9 percent), outpatient services (5.3 percent) and hospital services (3.7 percent); Alcoholic beverages, tobacco: the prices increased 11.4 percent with the relevant contribution of 0.60 percentage points to the overall inflation. The prices advanced for alcoholic beverages (13.8 percent) and tobacco (8.7 percent);
(Geostat.ge)