Georgians still unable to buy Super Cup tickets
By Messenger Staff
Tuesday, July 7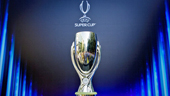 The precise date of UEFA Super Cup tickets becoming available again remains unknown.
Georgians remain unable to buy tickets for the Barcelona-Sevilla game that should take place in Tbilisi, at Dinamo Arena on August 11.
Since the web page authorized for selling the tickets to provide the service online, now the Georgia's football federation is in charge of printing tickets and selling them through box offices.
As media was informed preparatory work is underway. This implies devising a security plan and equipping box offices properly, the football federation says.
According to the Federation, once the work is completed, the tickets will be sold.
Meanwhile up to 3,000 foreign citizens can buy the tickets again on the web-page.
Biletebi.ge was originally scheduled to launch the online sale of tickets from June 22, but the website crashed as it failed to provide online traffic.
On June 29, Georgia's Football Federation (GFF) stated that Biletebi.ge settled the problem and tickets would go on sale from the morning of June 30 based on an online queue system to manage website overload.
However, the problems were not solved, frustrating customers.
Biletebi .ge, acting on behalf of the GFF, acknowledged the problem on Tuesday evening and announced that it was terminating all ticket sales.
Member of the majority Davit Lortkipanidze said that the actions of the Football Federation raised suspicions. The Biletebi.ge leadership stated that it might have been sabotage and addressed to the law-enforcement to get interested in the issue.
Some analysts believe that the selling of tickets through box-offices might be used by some individuals to get as much money as possible.