PM Gharibashvili says Georgia aims to expand local production and decrease import
By Ana Robakidze
Wednesday, July 8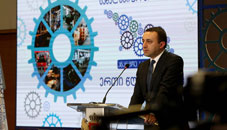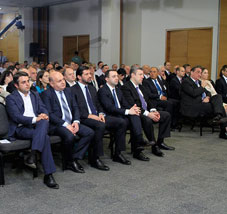 Prime Minister of Georgia, Irakli Gharibashvili says it is alarming when half of the population lives in poverty, and the situation has to be addressed urgently. Speaking at the business forum 'Produce in Georgia' on July 7, Gharibashvili said Georgia, as a very rich country with natural resources, should be able to provide better living standards for its citizens.
"We must not let our resources go unused. We have studied the potential of Georgia's regions and we know much can be achieved. We can start to implement projects together with enterprises. "Produce in Georgia" and cheap Agro-Credit programs provided by the state are everything an entrepreneur could ask for; within the framework of these projects, an entrepreneur has to pay only 1-2% of the credit and 10% will be paid by the government." Gharibashvili said and stressed that the economic situation can be improved only through joint efforts of the government and the business sector.
The PM said the government is focused on increasing local production to eventually increase export.
"We produce millions of bottles of water annually, but we have to import water bottles. Why cannot we start our own production of bottles?" PM said. He also stressed that developing the local production largely depends on the will of the government, as entrepreneurs have to have a good state support to succeed in the business activities. Gharibashvili said that the country can develop manufacturing in many fields and decrease import of good and his government is ready to fully support business in Georgia.
"I had conversations with leaders of our neighbours who have successfully promoted local production and development related projects. They spent years developing industries and have achieved good results. These countries have strong agricultural and industries and jobs for citizens. This is one of the main tasks of our government as well," Gharibashvili said.