Tinatin Khidasheli: "Strength of the Georgian State Stands on You"
Thursday, July 9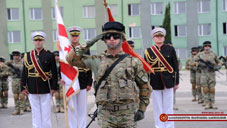 The farewell ceremony of a Georgian company of the 32rd Battalion of III Infantry Brigade of the GAF, which is ready to launch the "Resolute Support" mission in Afghanistan, was held at the drill grounds of the IV Mechanized Brigade in Vaziani. The Defence Minister of Georgia Tinatin Khidasheli and Chief of General Staff of the GAF, Major General Vakhtang Kapanadze bid the Georgian servicemen farewell for Afghanistan. Defence Attache of the Federal Republic of Germany, LTC Bernhard Hopp, as well as other officials of the General Staff and the MoD attended the ceremony.
The Defence Minister addressed the military servicemen and wished them a successful fulfillment of the "Resolute Support" mission: "The strength of the Georgian State stands on you. It's very important that the entire world appreciates our country due to your service in Afghanistan. Georgia's image mostly depends on your mission in Afghanistan. Thanks to you, Georgia is respected anywhere, Georgia is proudly represented in NATO and Georgia is welcomed everywhere".
The solemn ceremony started with the Georgian National Anthem performed by the military band of the Defence Ministry of Georgia. The personnel of the company of the III Infantry Brigade and the invited guests held a minute of silence to the memory of Georgian military fallen for Georgian territorial integrity and in international missions. At the end of the ceremony, Chaplain Father Gobron blessed the men of the III Infantry Brigade.
The company of the 32rd Battalion of III Infantry Brigade of the GAF will carry out the "Resolute Support" mission in Mazar-i-Sharif, Afghanistan, for seven months. The company of the 32rd Battalion is the second Georgian military unit to fulfill the mission as a Quick Reaction Force under the German contingent. The unit will replace the company of IV Mechanized Brigade by rotation. The Georgian military completed their training in June. They underwent 13 weeks training in Georgia, as well as a 5-month-long training on the "Wildflecken" and "Hammelburg" military training grounds which consisted of several phases. The Georgian military underwent individual training at the platoon and squad level under the command of German instructors. The Georgian Company along with the Bundeswehr military is also going through combined and situational training. German instructors positively assessed the preparation level and combat readiness of the Georgian military.