Islamic Caliphate approaching Caucasus
By Ana Robakidze
Thursday, July 9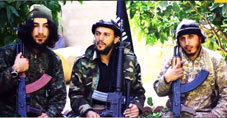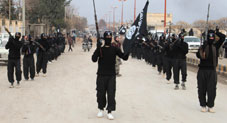 The Islamic State just recently established a new wilayat in the North Caucasus. A spokesperson for ISIS, Abu Muhammad al-Adnani announced that the new province unites four regions in Russia: Dagestan, Chechnya, Ingushetia, and Kabardino-Balkaria.
Head of the General Staff of the Georgian Armed Forces, Vakhtang Kapanadze, says that just like the rest of the world, Georgia is carefully following the expansion of ISIS and believes it bears a great threat to security.
It has been common for Chechen and Dagestan military leaders to join ISIS and they are open about their decision.
"We now have the first precedent wherein ISIS declares its Caliphate in Caucasus. There is no doubt the organization is a great threat not only for Georgia, but for the whole world. Responsible institutions including the Armed Forces are working on possible scenarios. ISIS activities are under constant monitoring from our side," Kapanadze said.
The Interior Ministry of Georgia confirmed that as IS is approaching Georgian territories, the government will have to increase control of the state borders.
According to the Minister of Interior Vakhtang Gomelauri, it is clear that ISIS is a threat in general and poses a specific threat to the region. However, it is too early to talk about particular challenges related to the Caliphate.
The establishment of an Islamist Caliphate in the North Caucasus, a region densely populated by Muslims, is an alarming fact for NATO. Sir Adrian Bradshaw, Deputy Supreme Allied Commander Europe, states that ISIS is a big challenge and has to be addressed urgently.
Khaso Khangoshvili, the elder of the Pankisi Gorge in Georgia, the most vulnerable part of the country to IS ideology, says that the Islamic State cannot have influence on the region. Khangoshvili confirmed that the Muslims living in Pankisi have had previous contact with ISIS, communications have now allegedly been terminated, even though several teens fled to Syria to fight for the Islamic state.
However, Georgian security experts remain concerned. Vakhtang Maisaia, an expert in state security, says it is a fact now that the Caucasian entity has been established and it means Georgia is within its borders as an integral part of the Caucasus.
"Their military units are along our borders already and their military potential can be as large as from 5,000 to 15,000 fighters with large financial resources," Maisaia said.
It is feasible that ISIS will try to take control over the eastern Turkey. Expert Vano Machavariani claims that ISIS has the most powerful military leaders from the North Caucasus and the organization believes they can gain influence over the whole region. Machavariani believes it is time for Georgia to initiate tighter cooperation with its partner states to avoid real threats coming from the ISIS.