Former Parliament Speaker holds meetings in Moscow
By Ana Robakidze
Monday, July 13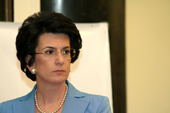 Former speaker of Georgian Parliament and current leader of the Democratic Movement-United Georgia party, Nino Burjanadze, visited Moscow last week, to hold meetings with the political elite. She left for Moscow after a State Duma invitation to participate in roundtable discussions on international legal problems in the 21st century.
She met with Russian Deputy Foreign Minister Grigory Karasin and Russia's State Duma speaker Sergey Naryshkin. According to the Russian Foreign Ministry, Burjanadze and Karasin exchanged their views on the perspective of improvement and the development of Russian-Georgian relations.
In her interview with Russian TV channel NTV, Burjanadze did not hide her dissatisfaction with the Georgian government. According to her, the government does not try hard enough to develop direct dialogue between the two countries. Therefore, as Burjanadze said, she has to try her best to build contacts and to create proper environment for dialogue concerning Abkhazia and South Ossetia.
Speaking also on Georgia-NATO relations, Burjanadze said Georgia should not have any interest in joining NATO and even the current situation with regards the alliance is not realistic.
"First of all it has to be admitted that no one welcomes us in NATO and no one is accepting us into the alliance. This is obvious. And on the other hand, in the condition when there are Russian military bases on the Georgian territory (in Abkhazia and South Ossetia), speaking about deploying NATO military bases on the other territories of Georgia or about Georgia's NATO accession is neither realistic nor in the interest of Georgia," Burjanadze said in her interview.
Burjanadze has always been open about her attitude towards Georgia-Russia relations. She openly blames former President Mikheil Saakashvili and his policy for the war of August 2008 and always mentions that Saakshvili's "reckless" policy led to the disruption of relations with Russia.
The former parliament speaker is also against Georgia's aspiration to join NATO and the EU, as she believes this will not help Georgia in returning the Russian occupied territories.