No end to "creeping occupation"
By Messenger Staff
Monday, July 13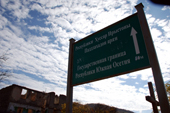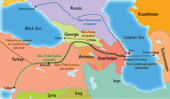 Russia is not relinquishing its grip on the occupied Georgian territories and is gradually claiming larger lands under its power, while at the same time putting the Georgian government in a very difficult situation; some believe that the Russian actions in Georgia are a good illustration of the inefficiency of the local government. Official statements expressing harassment is all Georgian government can do as a response to Moscow's illegal activities.
"On July 10, 2015, Russian occupying forces illegally placed banners marking the so-called 'border' on the territory adjacent to the village of Tsitelubani of Gori municipality and the village of Orchosani in occupied Akhalgori district (of South Ossetia), in close vicinity to the Tbilisi-Gori central highway," the Georgian Interior Ministry said in the official statement.
These recent activities resulted in a small portion of the Baku-Supsa oil pipeline falling within the occupied territory. The Western Route Export Pipeline (WREP), run by British Petroleum and with the capacity of transporting up to 100,000 barrels of oil a day, stretches from Azerbaijan to the Georgian Black Sea terminal of Supsa.
According to state official Shalva Enukidze, occupiers appeared in the villages of Gori on July 10 and installed banners marking the illegal border. The locals say because of these new banners, around 70% of the land plot belonging to the villagers is now occupied by Russians, meaning the farmers will not be able to harvest their crops.
In reply to the Russian occupation, the Georgian Foreign Ministry released a statement. The ministry again called on the international community to stand against unlawful activities Russia has been carrying out in Georgian territories.
The "creeping occupation" is a big blow on to Georgia's pro-Western policy. The country without safety guarantees hardly can be welcomed by the West. Meanwhile, pro-Russia politicians in Georgia, like former Parliament Chairman Nino Burjandaze, are calling on the government to cease their attempts to join NATO and start negotiations with Russia.
Moscow has been requesting the restoration of diplomatic relations from the Georgian government for some time now. However, it is not going to stop the occupation of the country.