PM has no plans to change dialogue format with Russia
By Ana Robakidze
Wednesday, July 15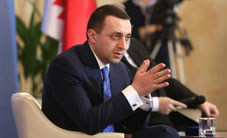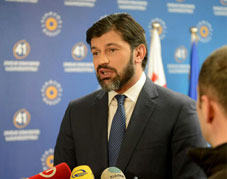 Georgia is not going to review or alter the current format of dialogue with Russia, Prime Minister of Georgia announced after the recent expansion of Russian occupation forces in Tskhinvali region.
"We do not plan to expand the format. We maintain the Geneva talks and we do not plan to review it," the PM said, commenting on Vice-Premier Kakha Kaladze's earlier statement. Kaladze said that Georgia and Russia are experiencing resinous difficulties and the situation requires some changes. Kaladze doubts that the Geneva talks can be an effective format of negotiation in this difficult situation and offers to come up with an alternative format of talks with Russia.
Gharibashvili says the recently installed border signs are just another provocation from the Russian occupation forces and the Georgian side should be very careful while addressing the situation.
"We should use all the available international levers calmly. The fact that this territory was falling under occupants' influence and that this territory was not under our control is known for everyone. The placing of these banners can be assessed as a provocation and completely unjustified move, especially considering our activities taken over the past three years to normalize relations with Russia through dialogue," the PM said. He also mentioned the upcoming Prague meeting, which is another format Georgian and Russian diplomats use to communicate and deal with economic and cultural relations and said here is not explanations to Russia's unlawful activities on Georgian territories, especially ahead of such an important meeting.
The Prague format involves meetings between the PM's Special envoy on relations with Russia Zurab Abashidze and Russia deputy-foreign minister, Gregori Karasin. The parties will meet today in Prague.