Price of 1 USD equals 2.2718 GEL
Monday, July 20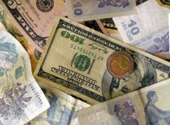 The National Bank of Georgia has set a new exchange rate, according to which the GEL has slightly depreciated against the dollar.
Starting with July 16, 1 USD will cost 2.2718 GEL. The previous exchange rate was 2.2716 GEL.
According to the new exchange rate, the Lari has slightly gained value against the euro. From July 16, 1 EUR will cost 2.4706 GEL, while the previous rate was 2.4733 GEL.
(IPN)