Extraordinary meeting held in Ergneti following tensions between Tskhinvali and Tbilisi
By Ana Robakidze
Wednesday, July 22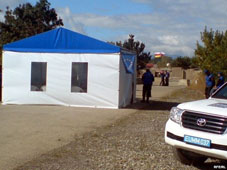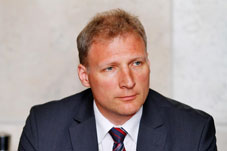 A Georgian man abducted on July 18 by the Russian occupation forces was released as a result of negotiations at an extraordinary meeting held between Georgian and de-facto authorities in Ergneti. The meeting was held on July 20 under the jurisdiction of the Incident Prevention and Response Mechanism (IPRM).
It became necessary to hold the extraordinary meeting following the recent tension in the Tsulebani and Orchosani villages located between the Georgian-controlled territories and the occupied region.
The meeting participants discussed the newly-installed border signs along the occupation line, causing two more kilometres of land falling under the control of Russian forces. However, representatives of the de-facto region refused to recognize the participation of the Russian forces and claim the South Ossetian administration installed the signs to mark their "state border" and strictly refused to remove the signs. However, they agreed to let the Georgian farmers whose agricultural lands are now controlled by the occupation forces will have access to their lands to have a harvest this year.
On July 21, the European Council (EC) President Donald Tusk arrived in Shida Kartli region to check the situation on the ground. He visited the area along the administrative boundary and checked on the newly installed border signposts. Tusk was accompanied by the Head of the European Union Monitoring Mission in Georgia (EUMM) Kestutis Jankauskas and by other members of the mission.
Speaking to the Georgian President a day earlier, Tusk said Georgia was facing significant provocations from the Russian side.
"It is clearly a provocation and it does not assist in building trust in the ongoing efforts to stabilize the situation and to bring about longer term conflict resolution," he said.