Gomelauri says break-away regions create comfortable environment for international terrorism
By Ana Robakidze
Thursday, July 23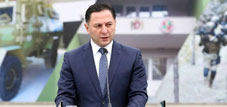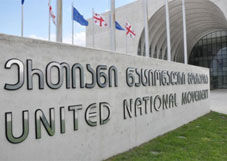 Vakhtang Gomelauri, recently nominated to chair the State Security Service agency, visited Parliament on July 23 to brief the lawmaker on his plans as the future head of the intelligence services.
Gomeauri spoke about the functions of the State Security Service agency, which is a new institution to start in August, in detail. He said the agency will focus on detecting and neutralizing the foreign intelligence services operating in Georgia, their specific objectives, plans, intelligence capabilities and operations.
According to Gomelauri, Georgia, as a country with two break-away regions, is a great place for international terrorism. Therefore, he said, the state agencies should focus on minimizing creating a comfortable environment for terrorists. Gomelauri said first of all it is important to prevent radicalism among citizens and to stop the spread of extremist rhetoric and ideology banned in the country.
"The most dangerous manifestation of the global terrorist threat today is the so-called Islamic State, which poses the same danger to Georgia as it does to other states. One of the main tasks of State Security Service will be to fight the proliferation of weapons of mass destruction," Gomelauri said addressing the MPs at the joint session of Human Rights and Security protection committees.
Protection of the state secret documents and units as well will be one of the priorities of the agency.
Former Interior Minister Gomelauri was nominated as a future head of intelligence services by Prime Minister Irakli Gharibashvili, now parliament has to vote and support him. At least 76 MPs have to vote in favour so Gomelauri could take the post with 6 years term. In the case he is turned down by the lawmakers, PM can introduce the same candidate for the second time, which has to be approved no later than August 1st. If the candidate does not gain a confidence vote, PM will have to acting head of the agency who will serve in the role until the legislative body approves another nominee.