Defence Minister Attended Reconnaissance Field Training
Friday, July 31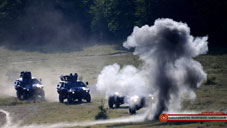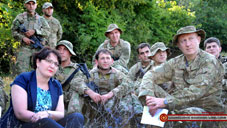 The Minister of Defence of Georgia attended the Reconnaissance Field Training in the village of Jimiti, Gurjaani region. Tinatin Khidasheli and Deputy Chief of General Staff of the Georgian Armed Forces, Colonel Roman Jokhadze visited the command center of the field camp and received detailed information about the exercise. After the command center Defence Minister went around the training area and patrolling camp, attended the company level exercise and talked to the participants of the training.
"Such trainings are underway in the Army on a regular basis and we have witnessed one of such exercises today. Our military personnel are trained on a daily basis during 12 months on various places. This time we observed the Reconnaissance Field Training. It is very important to attract resources with the help of foreign instructors and material resources that sustain the army," Tinantin Khidasheli said.
After the field training Defence Minister attended the sports competition held with the support of the Gurjaani local municipality and awarded the winners.
Reconnaissance Field Training started on July 22nd and will be closed on July 31st.
Military personnel from all reconnaissance units took part in the training. Reconnaissance Field Training is led by Colonel Giorgi Kvirikashvili. Military personnel will pass though reconnaissance, tactical, topography, medical and combat engineering training.