Georgian athlete wins gold medal at EYOF
By Ana Robakidze
Friday, July 31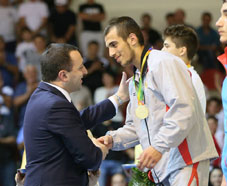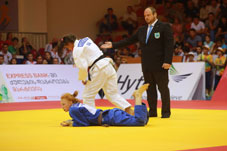 The Georgian Judoka team continues to successfully compete at European Youth Olympic Festival 2015 (EYOF).
Robinzon Beglarishvili earned the first gold medal for the Georgian delegation.
The Judoka defeated his opponent, Manuel Lombardo of Italy, with wa-zari in the final of the 60kg weight category.
The Georgian athlete made sure he had an advantage in the very beginning of the fight.
"I did not expect as much engagement of fans and extend them my thanks. It is nice that Georgia is hosting such an event for the first time. My opponent was strong enough, nonetheless, I succeeded to win the contest," said the champion.
Beglarishvili had to defeat Tigran Badalyan of Armenia, Ismayil Ibrahimov of Azerbaijan and Lars Kamphius of the Netherlands to reach the finals.
On July 29 Judoka team won two more bronze medals for Georgia.
Bagrat Niniashvili defeated Pasha Aliyev from Azerbaijan and Natalia Kipshidze defeated Kiera Bateman of Great Britain in the 48kg weight category.
On July 30 two Georgian girls Mzia Beboshvili and Eter Liparteliani won yet two more Golden medals in Judoka.
Overall Georgia has 4 gold and 3 bronze medals.