Seven year have passed since the Russian-Georgian war – the challenges remain same
By Messenger Staff
Monday, August 10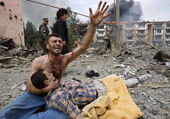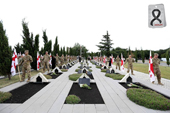 Seven years have passed since the Russian-Georgian war in August 2008 that claimed hundreds of lives, left behind burn villages and devastated infrastructure, as well as resulting in 20% of Georgian territory being occupied by Russia and thousands becoming Internally Displaced People (IDPs).
If we go through the details the damage Georgia received through the war is as such: 228 civilians, 170 military personnel and 14 police officers died, while 1,747 people were wounded in the war. Almost 150, 000 people were forced to leave their homes, 30,000 of which still remain as IDPs. Five soldiers were also declared Missing in Action.
Provocations from Russia became intense after the NATO Bucharest Summit in 2008, when the alliance stated that in the future Georgia would become a member of the organization.
For our Euro-Atlantic aspirations Russia "punished" us in 2008 and since than NATO has been claiming that its door is open for us without letting Georgia in.
After the seven year from the war we face the same threats of aggression. Russia still tries to provoke us and uses different types of signposts, barbed wires or its soldiers for achieving the aim.
We are advised by our foreign allies not to allow ourselves to be be provoked, and the current government tries to fulfil the task, as they know if we are provoked neither the EU nor NATO will risk war with Russia for our sake.
Meanwhile, the former officials and the members of the opposition United National Movement (UNM) accuse the government of being less loud towards the Russia's aggressive actions.
They say that the current government should inform the whole world about the ongoing situation in Georgia.
As it appeals, the current officials informs them, as when EU or NATO high-ranking officials visit Georgia, they repeat the same-"The government acts appropriately, you should not be provoked."
The message is very clear; if Georgia is attacked, no aid will come from the West.
Russia knows this and continues taking aggressive steps and making cynical statements. With regard to the seventh anniversary of the August War, Russia's Prime Minister Dmitry Medvedev said that "Russia was forced to get involved in the conflict, defend innocent people and avoid a humanitarian disaster."
The same scenario and the same statements are made with regards to Ukraine. They even need not change the statements or plans, as they are equally effective since they are never challenged.
Prime Minister of Georgia Irakli Garibashvili, who paid tribute to fallen soldiers at Mukhatgverdi Brothers' Cemetery on August 8, said that "Georgia should reveal a principled attitude and never tolerate the idea of losing its territories, but it should also take reasonable steps and continue its sensible policy towards Russia".
The President also underscored the importance of peace and stressed that the whole of Georgia, all political parties or forces despite differences in their political tastes, should be united around the top-state issues.
"We should solve problems through love and friendship and not blood and rivalry," he said.
But what one can do when rival has totally different approaches and attitudes, when the peaceful relations and your striving to development is not in its interests?
Parliament Chair Davit Usupashvili said that the Georgian governments managed to stop further occupation and failed to de-occupy our integral regions of Abkhazia and South Ossetia.
It is the regrettable reality that we will have to be in such a situation until the civilized world finally realises that Russia threatens them as well as us. Georgia alone can do nothing against the forces of Russia, but the unity of world powers – a real unity and not one solely on paper - will make Russia concede.