Georgia offers more flights, fresh routes to new destinations
Tuesday, August 11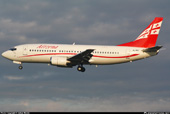 With the summer aviation season now in full swing, Georgia is offering more flights in and out of the country.
Local airline Georgian Airways is adding two more directions to its existing routes until the end of the 2015 summer season.
One of the new routes will see Georgian Airways fly to Rostov, Russia twice per week from August 14.
The other new route, between Georgia's capital Tbilisi and Iraq's capital Baghdad, was launched at the end of last week. The first flight took place on August 8 and will be operated once per week.
These two flight services have already been approved by Georgian Civil Aviation Agency.
Meanwhile, flights between Georgia and the Iranian capital Tehran have recently resumed. From August 7, Iranian airline ATA Airlines performed the first Tbilisi-Tehran flight this summer season. This service will operate twice per week for the remainder of summer.
Georgian Civil Aviation Agency First Deputy Director Igor Aptsiauri told Agenda.ge Georgian Airways also had the right to operate flights between Georgia and Iran however the airline had chosen not to do this for time being.
Additionally, the frequency of flights between Georgia and existing destinations has increased, said the Georgian Civil Aviation Agency official.
"There was only one flight between Thessaloniki [Saloniki] in Greece and Tbilisi which was launched by Ellinair. Now, one more flight has been added to this route," said Aptsiauri.
"Georgian Airways added four more flights to Yerevan [increasing the frequency of flights to eight per week] from Tbilisi beginning August 1, 2015. From August 8 the airline started operating additional flights between Tbilisi and Odessa (Ukraine) [two flights per week instead of one]."
"As for the activity towards Iraq, Georgian Airways launched flights from Tbilisi, as well as from Batumi, to Iraq. Tbilisi-Erbil flights started from July 16 while Batumi-Erbil flights were launched on July 27," Aptsiauri added.
Georgia's National Tourism Administration allocated 8 million GEL this year to internationally promote the country as a touristic destination. This amount of money was far more than what had ever been spent in previous years.
'Summer in Georgia' was the name of a campaign that was launched in Latvia earlier this year, where 70 billboards showing images of Georgian landscape were displayed in several Latvian cities.
The Administration launched the same campaign in Azerbaijan, Turkey, Ukraine, Kazakhstan, Belarus, Hungary, Lithuania, Israel and Russia.
Earlier this year groups of journalists and camera operators from various countries were invited to Georgia to travel around the country and prepare reports about Georgia's tourism potential for leading world media outlets.
Thanks to this promotion and the easing of Georgia's visa rules, the country welcomed more tourists this summer. Official statistics showed more than three million international guests spent time in Georgia this year.
Latest data from the Information-Analytical Department of the Ministry of Internal Affairs showed that in July this year the number of visitors to Georgia was 9.5 percent higher than in the same month in 2014. Furthermore in July 2014 visitor numbers was 9.8 percent higher than the same period of 2013.
Last month alone data showed Georgia welcomed 737,696 visitors. Of this 336,664 were tourists; a 2.2 percent increase year-on-year (y/y). Also last month 182,693 visitors used Georgia as a transit country - a 24.7 percent increase from last year.
The remaining 218,339 people came for other purposes, which was a 10.4 percent increase compared to 2014.
(Agenda.ge)