Georgia marks 894 years since the miraculous Didgori battle
By Ana Robakidze
Thursday, August 13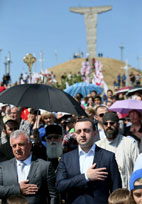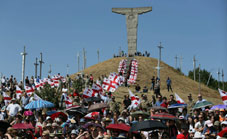 Didgoroba a day celebrated in Georgia every year on August 12th marks the greatest victory in the history of the country. On August 12th, 1121 King David the Great lead his army of around 50.000 against the enormous army of the Seljuki. By winning the battle on the Didogri valley King David the Great ended Saljuk invasion of the country.
Every year, Georgians gather on the field to pay tribute to David the Great and his army and to mark the day which Georgian chronicles describe as a "miraculous victory".
"Nodar Khaduri (Minister of Economy) and I have to win our own Didgori battle" Defence Minister Tinatin Khidasheli said after visiting the valley on August 12. Khidasheli stressed that Georgian government still has many battles to win for the country's wellbeing. The Minister said strengthening the defence capability in Georgia is the state priority.
"Didgoroba is a wonderful day for us. It is our duty to come here every year. I would like to voice two new initiatives.
"The first one is restoration of local infrastructure and the other is that all school principals will be commissioned to bring students here every year. This is important for the upbringing of future generations," Prime Minister Irakli Gharibashvili told media on August 12.
According to the PM, he has instructed Minister of Infrastructure Nodar Javakhishvili to elaborate a new plan of the Didgori development,
"Didigory is a symbol of our statehood, its strength and freedom. It is a symbol of the unity of our people." Gharibashvili said, addressing the crowd in Didgori. The PM emphasized that his government will pursue a correct and well-defined plan to bring Georgia back to the leading positions in Europe, as it was in 10-12th centuries, when the country was the greatest power in the region.