Russia refuses embargo on Georgian products
By Messenger Staff
Monday, August 17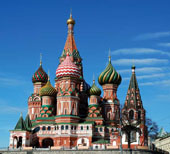 After voicing threatening message,s Russia decided not to impose an embargo on Georgian products.
According to the Russian media, the major factor for this was Georgia's "only slight" participation in the sanctions against Russia initiated by the European Union ( EU) and a minor trade turnover among the states.
The Georgian Government welcomed the solution while the opposition has spoken out over Russia's unreliability.
Trade-economic relations are the only topic Georgia and Russia are reaching currently since the Russian embargo in 2006 and the Georgian-Russian War of 2008.
It could be said that the current state administration is doing its utmost to normalize relations with Russia. Through the initiative of Georgia's former Prime Minister Bidzina Ivanishvili, a special post was established for regulating relations with Russia and Zurab Abashidze was appointed as Georgia's special envoy to the Russian Federation. For Russia's part, Russia's deputy Foreign Minister Gregory Karasin performs the same role.
It is the merit of the format that more than 10 different types of Georgian products re-entered the Russian market.
The Georgian officials admit that their positive steps are mainly ignored by Russia. However, as it appears, striving to regulating of relations with Russia is more beneficial for the government and Georgia's foreign allies than a confrontation with one of the world's powers.
Herewith, commenting on the Russia's recent positive 'verdict' over Georgia, Georgia's Finance Minister Nodar Khaduri said that "Georgia lacks an opportunity of choosing markets."
"Each market we are trying to enter is essential for us," Khaduri said.
Indeed, markets are very important especially when the current Georgian leadership fails to stabilize the national currency and suspend inflation.
Minister of Defense Tina Khidasheli stressed that it is "welcomed when even a minimal, counter steps are detected….however, unfortunately, it is the continuation of what has happened from the Russian side," Khidasheli said.
The opposition parties, the United National Movement (UNM) and Free Democrats (FD) believe that Russia's being among Georgia's top exporters is dangerous, and appeal to the government to diversify target markets .
Of course, Russia is not a reliable partner and it can impose embargoes on Georgian products any time it wishes and it is more beneficial for its interests. It is also very likely that initially Russia will let as many products to its market as possible for the embargo to be much painful for the Georgian economy if it will be declared.
The diversification of markets requires lots of efforts: more and high-quality Georgian products, qualified staff in relevant bodies, multiple steps for upgrading the Georgian economic and agricultural fields and so on.
Maybe it is easier for the current government to benefit from the Russian market now as they fail to achieve genuine goals for the country's economic advancement within its term.
However, thinking about today without proper estimation of future risks will bring nothing good in the long term perspective.