UNM MP is ready to concede his mandate
By Messenger Staff
Tuesday, August 18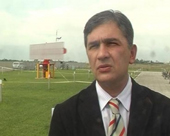 Minority MP Giorgi Karbelashvili is ready to concede his mandate for the incident with patrol police several days ago.
The member of the opposition United National Movement (UNM) was stopped by police as he was suspected of being intoxicated.
Karbelashvili initially claimed that he was abducted and insulted by police officers; however, in a video of the arrest released by the police, the MP is seen insulting the officers and refuses to obey them.
Karbelashvili asked for a pardon several times and stated that following his actions, he was ready to take responsibility and rescind his MP's mandate, and consequently his immunity provided by his current position.
However, he put forward one precondition for it and appealed to Prime Minister Irakli Garibashvili to also retract his statements towards him.
The fact is that after the incident Gharibashvili stated that he was "sure Karbelashvili was under the influence of drugs."
In response, Karbelashvili released a conclusion from the Samkharauli National Forensics Bureau dismissing the allegation.
Thus, now, for damaging his reputation and dignity, Karbelashvili demands a pardon from the high-ranking official.
Majority representatives state that Gjaribashvili just expressed his view and that if they were Karbelashvili, they would quit the position without any preconditions.
Minority members refrained from justifying Karbelashvili's actions. However, they stated that the PM's statement was also unacceptable.
"The first person of the country should not speak like that," member of Free Democrats Zurab Abashidze said.
Unfortunately, in the course of previous years or currently Georgian high-ranking officials have rarely thought their words through.
Of course, freedom of expression values much. However, being a high-ranking official is a different responsibility and also requires the obligation of patience.
Statements voiced by officials might influence people and different structures. It would be better for people to refrain from making initial statements until final solutions are revealed based on appropriate procedures.