Tbilisi flood: Georgian Gov't funds rehabilitation of 66 damaged houses
Monday, August 31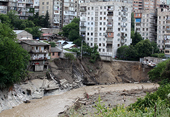 More than one million GEL will be spent on rehabilitating 66 houses in Georgia's capital that were damaged in the deadly flood on June 13.
This was decided at yesterday's City Council (Sakrebulo) meeting.
The rehabilitation works will be carried out on several streets in capital Tbilisi's Saburtalo district, including Digomi village where houses were damaged after the Digmula River swelled.
"The rehabilitation will begin in nearest future," said Saburtalo district governor Beka Mikautadze.
"The rehabilitation projects will be designed and the works will start immediately. The rainy season is coming and first of all we need to re-roof the houses so they are not further damaged," he said.
The homes of about 400 people from 80 families suffered some kind of damage in the Tbilisi flood.
(Agenda.ge)