Local family funds new 4-star hotel in Georgia's ancient cave city Vardzia
Tuesday, September 1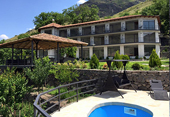 Georgia's ancient cave city, Vardzia, is welcoming a new four-star hotel that can accommodate up to 100 guests.
A local family living in the historic settlement decided to finance the new hotel to stimulate tourism and infrastructural development.
The VardziaResort hotel has been under construction for the past five years but will open its doors for tourists and corporate guests this September.
One of the managers of VardziaResort told Agenda.ge the hotel was now being furnished and once the last works was complete, the hotel will open to the public.
The hotel was built using Georgian funds from the local Natenadzes family. The family wanted to contribute to the town's development and encourage tourism.
The new hotel can accommodate up to 100 people and faces the historical Vardzia cave complex.
"This is not just a hotel but a large complex which unites cottage facilities, restaurants, Meskhuri Hall, summer houses, lounges, two big 'hanging' outdoor pools, a marani (location for storing wine in special pitchers), a Meskhuri wooden house and a bakery," said the hotel manager.
A river flows on the resort territory, which unites seven ponds that are full of different kinds of fish.
(Agenda.ge)