Parliament overrides Presidential veto over NBG controversial bill
By Messenger Staff
Monday, September 7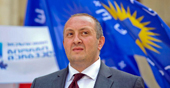 The Parliament of Georgia overrode the Presidential veto on the bill offered by majority MPs that envisaged separation of the supervisory functions from the National Bank of Georgia( NBG).
Initially the legislative body discussed the remarks of the president elaborated over the draft, suggesting empowering of the NBG supervisory functions to financial institutions in Georgia.
The President claimed than depriving the National Bank of the right would put the NBG independence at risk.
Only 14 MPs supported the remarks, while 45 voted against them.
Following the necessary procedure Parliament had to vote for the Presidential veto imposed on July 31 this year.
With 81 votes for and 12 against the majority managed to overcome the veto.
The bill was sent again to the President to sigh for it to go into effect. If the President denied signing it the Parliament Speaker would have to do it.
The President said that he signed the bill as the signature that stage enjoyed only "symbolic meaning."
"I respect Parliament's decision and respect the responsibility of the MPs taken with regard to the bill," Margvelashvili said, noting that he had not gin the symbolic signature if the case concerned some international, human value.
It should be stated that prior to overriding the veto, one of the authors of the bill, majority MP Tamaz Metchiauri, insulted the President, stating that Margvelashvili was a slave of Soros and the NGOs who should not have been elected President.
Metchiauri also accused the head of the National Bank of Georgia Giorgi Kalagidze in the national currency devaluation and stated that the bill offered by him would help the Lari that has lost more than 20% of its value against the dollar since November 2014.
The bill offered by the Georgian Dream coalition members stated that a separate Financial Supervisory Agency would be established and governed by a seven member Board.
The NBG president and one more member of the central bank's Board will take two seats; five other seats will be occupied by candidates nominated by the Government and confirmed by Parliament. The head of the Agency will be nominated by Board members and confirmed by Parliament.
Majority needed at least 76 votes in the 150 seat parliament to push the bill.
The President, international organizations and NGOs stated that the bill might cause problems for the NBG's independence.
It is less likely the bill to help the national currency. Even the Georgian Dream member, former Minister of Economy, just appointed as a new Minister of Defence, Giorgi Kvirikashvi stated that the NBG role in the lari devaluation was insignificant.
Almost all analysts stress that the devaluation was because of foreign factors and hard situation in Georgia's economic field.
The government should guess that pointing fingers at each other will not ease the country's economic situation. Of course, foreign factors also effect on the Georgian economy. However, we should not forger as well that Georgia still imports 80% of its products.