Georgia signs on as global aircraft part producer
Tuesday, September 8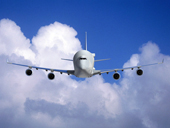 Boeing, Bombardier, Airbus, Sukhoi and other world leading aircraft manufacturers will soon use plane parts produced in Georgia.
An $85 million USD factory that will make and export civilian aircraft parts will open in Georgia's capital Tbilisi in 2017.
Prime Minister Irakli Gharibashvili launched construction of the new factory on September 8.
The project is a joint venture of Georgia's state-owned shareholding company Partnership Fund and Israel-based international defence electronics company Elbit Systems.
"For the first time in the country's history an aviation parts producing factory of international importance is being built in Georgia," Garibashvili said.
The President and CEO of Elbit Systems, Bezalel Machlis, attended a small ceremony at the new plant, located not too far from Tbilisi International Airport.
The Georgian PM thanked him and said the Georgian Government saw this partnership as "a declaration of trust towards Georgia".
Garibashvili added 300 Georgian citizens would be employed at the new factory once it opened in 2017.
"Leading specialists from Israel will come to Georgia to train Georgian employees," he said.
The Georgian Partnership Fund's share in the project was $40 million.
The PM said as well as this project the Fund was currently implementing 15 additional projects in Georgia that had a combined total investment portfolio of $2 billion USD.
(Agenda.ge)