Former EU official states migrants' crisis will not damage Georgian visa liberation
By Messenger Staff
Tuesday, September 8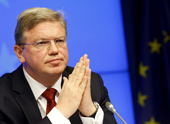 Former EU Commissioner for Enlargement and Neighborhood Policy Stefan Fule hopes that the migration crisis in the EU will not affect Georgia's visa liberalization plan.
The announcement was made by the former Commissioner at the international conference, which was entitled "Europe's New Geopolitical Landscape. Security, Economic Opportunities, Freedom and Human Dignity in the Frontline Countries".
According to Fule, Georgia's progress in terms of visa liberalization will depend on the fulfilment of the action plan.
"The migration crisis is a big challenge. I hope that the migration crisis that we see on TV will not affect the wonderful job done by Georgia, and Georgian citizens will travel in the Schengen zone without visas," said Stefan Fule.
There were different positions fixed concerning the issue in the frame of the Tbilisi Ambassadorial a couple of days ago.
Some ambassadors were speaking about the threats with regards to the visa liberation in the context of migrants, while others stated that the current complications would not affect Georgia being granted visa liberation.
The current Georgian Government is hopeful that the EU will finally grant visa-liberation to Georgia.
Parliament Speaker Davit Usupashvili, who has just returned from the United States, has stressed that Georgia's foreign allies and countries are for giving visa-free travel to Georgia with European countries.
It should be stated that Georgian officials have been told by representatives of several international organizations that we are good at fulfilling tasks. However, their doors still remain closed to us.
Georgia is waiting for genuine outcomes from NATO and the EU every year, but at the end of the organizations' gatherings we are given "something" that fails to open the doors.
Now we are waiting for the following NATO and EU summits. Prior to the summits there were statements that the organizations do not intend to expand which, of course, creates a negative mood.
A great part of Georgians are tired of permanent refusals and this tiresome and skepticism damages Georgia's Euro-Atlantic aspiration more than any other obstacle.