More Chinese firms willing to invest in Georgia
Tuesday, September 15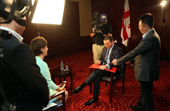 Huawei, a leading Chinese multinational networking and telecommunications equipment and services company is interested in developing its business in Georgia.
Company representatives shared this idea when they met Georgia's Prime Minister Irakli Garibashvili on September 12.
They also expressed their readiness to help the Georgian Government develop electronic governance.
Garibashvili ended his working visit to China earlier today. The PM and a Georgian delegation spent about five days in China to attend the World Economic Forum and host other official meetings.
One of the meetings was with representatives of the CHINAPOWER investment company. The PM's Administration said the company had "concrete plans" to invest in Georgia, and had showed particular interest in Anaklia Port.
While abroad Garibashvili also made time to talk to Chinese media.
"Georgia is a place of peace, negotiations and consensus, where there are all necessary conditions for trade and economic development," the PM Garibashvili told China Daily.
He spoke about Georgia's geopolitical importance and its role in the New Silk Road project with China Central Television (CCTV) too.
Furthermore Garibashvili summed up his China visit for Georgian media and said: "Without any exaggeration I can say that we have never ever had as close relations as we have now with China."
(Agenda.ge)