Foreign Minister excludes expanding of Abashidze-Karasin format
By Messenger Staff
Tuesday, September 15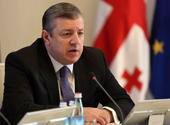 Georgia's recently-appointed Foreign Minister Giorgi Kirikashvili states that a special format of meeting between Georgian-Russian envoys known as the Abashidze-Karasin format will remain the same without major changes in its content.
The meetings were launched under the current Georgian Government, through the initiative of the ruling Georgian Dream coalition founder Bidzina Ivanishvili, and are focused only on trade-economic relations.
However, the format is strongly criticized by the parliamentary minority and is a described as more of a "Russian tool" than a profitable mechanism for Georgia to regulate relations with Russia.
The opposition United National Movement (UNM) frequently claims that the format should be rejected and instead Georgia should try to empower its international levers against the Russian aggression.
The opposition Free Democrats( FD) stress that the format sometimes leave the frame of only economic issues and political ones also become the topic of the format.
Kvirikashvili says that making as effective steps as possible for restoration of Georgia's territorial integrity will be his major goal.
According to the Minister, in spite of the ongoing occupation, a dialogue format is necessary between Russia and Georgia, though he thinks the format cannot be expanded.
"Humanitarian and economic issues are discussed within the Abashidze-Karasin format. From my point of view, it is impossible to expand the format as there are political issues beyond it.
"Geneva international format is for political discussions which need to be maintained as effective as possible… It is more important to communicate with the most serious opponent than to leave it alone. Therefore, I cannot accept the criticism that the Abashidze-Karasin format should be abolished. The latter needs to be inevitably maintained," – Kvirikashvili said.
In his recent interview for Palitra newspaper Abashidze stressed that he has not discussed political issues with Russians . He also stated that the current Government has never given a promise that political problems with Russia would be settled promptly.
In the context he spoke about the necessity of restoring economic ties with Russia firstly.
In the frame of the format, different types of Georgian products returned back to the Russian market.
Herewith, when Georgia's foreign allies arrive to Georgia they state all the time that we should try to improve relations with Russia.
They also hint that Georgia will have to stand alone in the case of confrontation with Russia.
Thus, even we did not want to speak with Russia, we would have to, as in fact, it is the demand of our foreign friends.