Germany allocates EURO156m to Georgia
Monday, September 28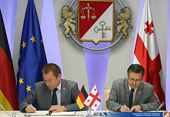 Germany is offering EURO156 million (415 million GEL) to Georgia.
This deal of financial support was solidified yesterday after Georgia's Finance Ministry signed an agreement with the Federal Ministry for Economic Cooperation and Development.
It was noted that the KfW Development Bank will grant EURO140 million that will go towards bilateral financial cooperation while the remaining EURO16.3 million will be granted by the German Federal Enterprise for International Cooperation (GIZ) with funds allocated towards supporting technical cooperation.
The EURO140 million KfW funds will finance several directions in Georgia.
• EURO5 million will finance the Financial Sector Support Program;
• EURO100 million will be spent on building a high voltage power line; and
• EURO34 million will be allocated to the Samegrelo and Kakheti regions for running the Solid Waste Management Program.
For the past two years the Solid Waste Management Pogram was successfully carried out in Georgia's second largest city Kutaisi with the support of KfW.
KfW was responsible for implementing bilateral financial cooperation between Georgia and Germany.
Meanwhile the GIZ aid will support technical cooperation between Georgia and Germany.
GIZ will offer EURO 16.3 million aid to continuing its ongoing regional projects in the field of sustainable economy development, energy and environmental protection. At the same time, the money will be spent on developing democracy, local governance and legal statehood.
(Agenda.ge)