Both President and Prime Minister perform at UNGA session
By Messenger Staff
Monday, September 28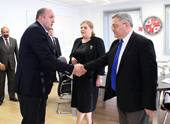 Since Georgian Prime Minister Irakli Garibashvili left for the United States to take part in the 70th assembly of the United Nations General Assembly (UNGA) on September 25 the President Giorgi Margvelahsvili also took the same route two days later.
As the President's administration informed on September 26 bilateral meetings with different countries' leaders are planned to be held within the framework of the visit.
According to the Presidential Administration the Georgian High Commander delivered a speech at the Coast Guards Academy and paid tribute to the memory of the deceased Georgian cadets, Soso Makaridze and Beso Gorjoladze.
The President also delivered public speeches at the external relations council and Fordham University.
Giorgi Margvelashvili also took part in the discussion "Eastern Europe's future, strengthening of the women's role" organized by the Lithuanian President.
Within the framework of the business visit, the Georgian President will visit Washington on September 29 where he will hold meetings with about fifteen senators and congressmen including Arizona Senator John McCain.
Giorgi Margvelashvili will meet IMF and World Bank presidents and business circles representatives in Washington.
The Georgian President is scheduled to host the head of the Albright Stonebridge Group, Madeleine Albright, during breakfast and hold a business dinner with NDI leadership.
A meeting with the Georgian diaspora and interviews with international media will be in focus as well.
Commenting on the separate agenda at the same global event, Parliament Chair Davit Usupashvili dismissed speculations concerning the controversy among the President and the Prime Minister.
He stressed that the two state leaders are in good, working relations.
"However, sometimes the demonstration of unanimity is fine for not to give reasons for rumours and speculations over some controversies," Usupashvili said.
He emphasized that Giorgi Margvelashvili is a good president, who does his utmost for the country's advancement.
"He is the President, he has his functions, he should not act based on the interests of any political party," Usupashvili said.
It should be stressed that when the President vetoes some bill or makes the statements that are not in the interests of the ruling Georgian Dream coalition (GD) several members of the coalition and the majority state that Margvelashvili behaves as if he were in the opposition.
They frequently state that the President should be thankful to the founder of the Georgian Dream coalition Bidzina Ivanishvili, who chose him as the Presidential candidate.
There is some impression that they want Margvelashvili to do the things Ivanishvili or the current Georgian Government wants.
It can be said that such a category of people will never be a milestone in building of a democratic states, as they have no mind that the country success is based on the strength of state institutions and not certain individuals.