Georgia to prolong its stay in Afghanistan after 2017
By Messenger Staff
Monday, October 19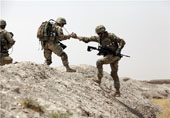 The news came after a telephone conversation between Georgia's Defence Minister Tinatin Khidasheli and the United States (US) Deputy Secretary of Defence Robert Work several days ago, since the US President Barack Obama announced that American soldiers wil stay in Afghanistan after his presidential term expires in 2017.
Georgia, which is the biggest non-North Atlantic Treaty Organisation (NATO) contributor with 885 servicemen in the conflict zone for the Alliance Resolute Support Mission, expressed readiness to follow up the route, Georgia's Defence Minister said.
The Resolute Support mission was a follow-on task from the International Security Assistance Force (ISAF) mission, to which Georgia contributed about 750 troops.
"We confirmed our readiness to stay with the US troops in Afghanistan and continue our mission in terms of protecting international peace," Khidasheli said.
According to Georgian Defence Ministry, Work said "Georgia had confirmed many times that it was a devoted partner for defending international peace and security."
"He thanked Georgia and stated that his Government will continue to support Georgia in upgrading its defence capabilities," Georgia's Defence Ministry said.
Resolute Support, or Operation Resolute Support, is a NATO-led training, advisory, assistance, and counter-terror mission consisting of 12,500 soldiers in the Islamic Republic of Afghanistan which began on January 1, 2015 replacing the ISAF mission which began in 2001.
Georgia joined the ISAF mission in 2004.
Since 2004, 31 Georgians have been killed and tens of others injured while serving in Afghanistan, as Georgian troops were deployed to the dangerous Helmand Province.
President Obama has stated that he would keep 5,500 U.S. troops in Afghanistan for the mission when he leaves office in 2017.
Obama had originally planned to pull out all but a small, embassy-based U.S. military presence by the end of next year, a timeline coinciding with the final weeks of his presidency.
Thus, Georgia still remains as one of the biggest contributors for the keeping of international peace and security, despite the fact that Georgia is at risk daily due to the possibility of renewed Russian aggression and the creeping occupation of Georgian land.
Georgia is repeatedly thanked for contributing troops to international peacekeeping missions, but the doors of international organisations (such as NATO and the EU) remain closed.
Despite the fact there are several states under such organisations which have never fulfilled all the demands of NATO or EU, Georgia, despite of its significant progress, is continually refused even a Membership Action Plan (MAP) for NATO.
The non-stop promises of NATO over its open-door have already become both topics of humour and disappointment among Georgians.
Georgians are tired of this "one sided love"; Georgia deserves real – and not imaginary – open doors to the international community.