Minister evaluates achievements
By Messenger Staff
Tuesday, October 20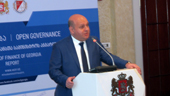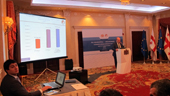 Georgia's Minister of Finance, Nodar Khaduri, assessed the three-year performance of his ministry before Governmental officials, diplomatic corps, foreign and local experts yesterday at the Tbilisi Marriott Hotel.
Khaduri stressed that despite various problems, Georgia's financial field was performing quite well.
The Minister stated that the results of the Open Budget Survey (OBS) by the International Budget Partnership ranked Georgia 16th in the world based on an analysis of 102 nations' budget transparency, participation and oversight.
"Using 109 indicators to measure budget transparency, countries were given a score out of 100 for each category that measured how governments managed public finances. The 2015 result for Georgia was a significant improvement on recent years; the last OBS in 2012 ranked Georgia in 33rd place," Khaduri said.
The Minister also marked the improvements made in the way that the country managed foreign debt, as well as in various tax-related and other financial directions.