International Monetary Fund experts to visit Georgia
Tuesday, November 10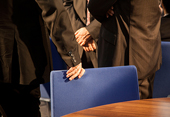 Global monetary experts are set to visit Georgia to assess the country's financial situation.
A delegation from the International Monetary Fund (IMF) will meet local authorities and discuss Georgia's economic environment.
The assessment mission was scheduled to arrive in Tbilisi and stay here for two weeks.
Meetings between the IMF representatives and Georgian officials will be held at Georgia's Finance Ministry, Economy Ministry and National Bank.
The assessment mission will end its visit on November 21.
The IMF is an international organisation made up of almost 200 countries working to foster global monetary cooperation, secure financial stability, facilitate international trade, promote high employment and sustainable economic growth, and reduce poverty around the world.
(Agenda.ge)