Georgia expects membership in the Energy Community
Tuesday, November 17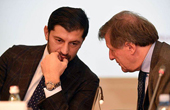 Georgia is expected to become a member of the Energy Community (EC) – an international organisation that deals with energy policy – in September 2016.
Negotiations on EC membership were discussed at the Georgia's Energy Sector – Progression towards the EU and Electricity Trading Mechanism conference, held in Tbilisi this week.
The conference highlighted not only the issues related to EC membership, but also the implementation of requirements under the EU-Georgia Association Agreement (AA) in the energy sector.
At the conference, Georgia's Deputy Minister of Energy, Commissioner of Georgian National Energy and Water Supply Regulatory Commission (GNERC) and experts from World Experience for Georgia (WEG) and USAID's Governing for Growth (G4G) project discussed the ongoing reforms in the Georgian energy sector and negotiations on EC membership.
Georgia's Deputy Energy Minister said negotiations were coming to an end and Georgia was expected to become a member of the EC in September 2016.
Overall the event was "an effective way" to share experiences on energy sector development and reform issues with international players and regional counterparts.
The conference was organised by think tank WEG as part of the multi-stakeholder activities of civil society.
Georgia's Vice Prime Minister and Minister of Energy Kakha Kaladze and the EU Ambassador to Georgia Janos Herman opened the event.
(Agenda.ge)