More money for security
By Messenger Staff
Tuesday, November 27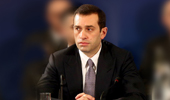 No Georgian citizens have been identified among the 129 killed and 350 injured during the brutal terrorist attacks in France.
Georgia's Ambassador to France, Eka Siradze Delaunay, stated that no Georgian citizens have been confirmed as being amongst the casualties.
The Georgian Embassy to France has also published a hotline number and released a statement for Georgians in France and Paris:
"Following the terrorist attacks in Paris on 13 November, France has declared a state of emergency. Due to the highest security measures a mandatory curfew has been imposed in Paris.
"In accordance with these security measures we ask that you stay indoors, at home or in your hotel," the embassy said.


The hotline number is: + 33(0) 783318689
Alternatively, Georgians can get in touch with the Consular Department of the Ministry of Foreign Affairs of Georgia through the following hotline: (+995 577) 98 40 20.
Following the terrorist attacks in France (which have been declared as an attack on the whole civilised world), the current Georgian Government has tightened security in airports, at border checkpoints and at strategically important institutions.
However, the Parliamentary opposition Free Democrats (FD) party believe that the measures have not been enough.
The party - chaired by Georgia's former Defence Minister Irakli Alasania – demands that more money be allocated from the 2016 state budget to border control forces and the security services.
The Party intends to appeal to the relevant bodies with the request this week.
In response, Irakli Sesiashvili, the head of Parliament's Defence Committee, thinks that allocating more money from the budget will change nothing, and terrorist threats have already been accounted for in the budget plan.
"Terrorism has become a global threat, and Georgia will act to combat it together with its foreign partners, based on common plans," Sesiashvili said.
Despite the fact that terrorism really became a global headache, it does not mean at all that certain countries should not empower their security services.
Of course, Georgia should also think to invest in the country's security, and at least spend more money to enhance the knowledge and experience of intelligence and security service staff.