Two Georgian miners badly injured after explosion
By Messenger Staff
Monday, November 23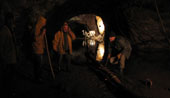 Two miners were badly injured after an exposition in the Perevisa village mine in the western Chiatura region several days ago.
A 50 –year-old Shift Manager, Tariel Bitsadze, and 26-year-old Explosives Expert Zurab Gamezardashvili have already been transported toTbilisi for necessary medical treatment, as they had received heavy injures and burns after the explosion.
Doctors have stated that the two men had more than 20% of their bodies burnt and suffered serious eyesight complications.
Meanwhile, Tamaz Dolaberidze, the Head of the Professional Union for Metallurgists, Mine and Chemical Industry Employees, wrote on his Facebook page that "one of the injured has completely lost his eyesight while the other can only see from a single eye".
Dolaberidze demanded the creation of a special commission to investigation the issue, with the full involvement of his professional union staff.
According to the Georgian Manganese Holding, a subsidiary of the British company Stemcor which currently owns the Chiatura Mine, the company employees were carrying out ordinary exposition activities inside the mine when "something went wrong".
Georgian law enforcement officers have already launched an investigation into the accident.
Chiatura represented the largest manganese reserve in Georgia and one of the largest in the world, having estimated reserves of 239 million tonnes of manganese ore grading around 26% of manganese metal. It has operated since 1879.
It is a sad truth that such fatal incidents take place quite often, not only in mines, but also during regular constructing work.
There is little compensation and few bonuses(such as hazard pay or insurance) for people working in dangerous situations.
Despite the adoption of the new labour code, little has been changed for employees.
Those working in mines still have to work for minimal wages and risk their lives daily.
On the other hand, many who are employed in mines or on construction sites are not professionals of their jobs and the companies also refrain from spending money for raising their knowledge.
Professional unions also frequently say that in major institutions, staff are never paid for extra hours.
Georgia does not need laws on paper; the country requires genuine reforms that will yield tangible benefits people.
If a country really advances, positive trends are first of all reflected on its people. These trends, however, are yet to appear in Georgia.