GD coalition supports Shotadze as new Chief Prosecutor
By Messenger Staff
Tuesday, November 24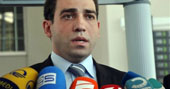 The ruling Georgian Dream coalition supports Irakli Shotadze's candidacy for the post of chief prosecutor.
The Election of the Chief Prosecutor was the main issue of the coalition Georgian Dream's political board meeting on November 22.
"The parliamentary majority supports Irakli Shotadze. We'll try to pass all procedures next week, although the parliament has three weeks for it," the parliamentary majority leader Zviad Kvachantiradze said after the meeting.
According to him, discussions will be held about the issue both within Parliament, including both majority and minority representatives.
It should be stressed that Shotadze's candidacy was named among the three candidates Justice Minister Thea Tsulukiani selected from the seven candidates named by academic and civil sector representatives.
Shotadze was supported by the thirteen members of the recently-created Prosecutorial Council, which is chaired by Georgia's Justice Minister.
Eight members of the Council are prosecutors elected by the Conference of Prosecutors, which was also a new structure suggested in the bill confirmed by Parliament in September this year, through which the selection process of the country's Chief Prosecutor has become complicated.
Members of Parliament (MPs) have two seats; one from the majority and one from the opposition, while another seat is held by a civil society representative and another from an academic background.
Two further eats are held by judges of the High Council of Justice.
Shotadze, 32, received a legal education and has mainly served in Georgia's Chief Prosecutor's Office since 2005.
If the Government approves his candidacy, the issue will be sent to Parliament, and it is very likely that Parliament will also confirm Shotadze as Georgia's first elected Chief Prosecutor, as Georgian Dream MPs occupy most seats there.
Shotadze's candidacy has been strongly criticized by the opposition. The opposition United National Movement party stated that "it was a political decision."
Under the current state Government, several Chief Prosecutors have been appointed. However, Shotadze has retained his post as a country's Deputy Chief Prosecutor for some time.
The parliamentary opposition has frequently accused him of approving motions which are favourable for the current state administration.
It should be mentioned that Shotadze is rather open to the media and often gives interviews to answer the media's questions.
If Shotadze becomes the country's Chief Prosecutor, the opposition is very likely to continue their assertions that the Chief Prosecutor's Office "is being controlled" by the Government.
Time will show whether Shotadze (if elected) manages to carry out vital reforms in the Chief Prosecutor's Office or not, as various question marks are being voiced towards the body and adequate answering of these questions will be crucial for the state image.