Pension increases
By Messenger Staff
Monday, November 30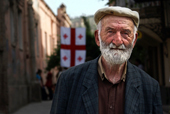 Georgia's Prime Minister has stated that pensions will increase for Georgia's elderly population by 20 GEL and will reach 180 GEL monthly.
The increase will come into effect from July 2016, just three months before the upcoming parliamentary elections.
Prior to the decision, Georgia's Finance Minister Nodar Khaduri claimed there was not enough money to increase the pensions. However, the situation has since changed, and the 2016 state budget will now have to allocate an additional 84 million GEL for nearly 700,000 Georgian pensioners.
It should be stressed that the increase is not being introduced at the expense of reduced administrative expenses.
The opposition United National Movement (UNM) party claims that the 20 GEL increase was "their notion" as they had assured in their television advertising campaign that if their party is victorious in the 2016 elections, pensions would be increased with 50 GEL.
Economic expert Roman Gotsiridze forecasts that the growth, which is a result of amendments to taxation legislation, will cause additional problems for the national currency, which from last year has lost more than 20% of its value against the dollar.
The state pension was increased in September 2015 by 10 GEL, raising it up to 160 GEL. As it appears, the election year is of the utmost importance to the Government.
However, it should be stressed due to the Lari's devaluation, even a pension increase up to 180 GEL is insufficient for the population's monthly expenses without any additional income.
The pension is available to women aged 60 and older and men aged over 65.For most Georgian pensioners, especially those who live in rural parts, their pension is their only income.
Unfortunately, such actions from the Government will not solve the problem; it will not eradicate extreme poverty among pensioners.
Before cameras the pensioners state that even 200 GEL is not enough to live on monthly for a single man, especially in winter when expenses for gas and electricity increase.
The mildly increased pensions are also not expected to win more votes for the Government as people are waiting for more concrete steps that will provide better economic conditions.