Georgia will connect South Caucasian countries with electricity
By Messenger Staff
Monday, December 7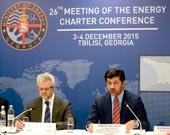 Georgia is becoming an "energy bridge" connecting South Caucasian countries with a reliable electricity supply.
Georgia, as the chair country of the Energy Charter, is also considered a flagship country in the Caucasus region to support cooperation in the energy field. "Our primary goal is to strengthen regional cooperation through trade in electricity," Georgia's Energy Minister Kakha Kaladze told more than 100 guests at an Energy Charter Conference a couple of days ago.
As of today, Georgia has completed construction of a 500 kW transmission line to Azerbaijan, and rehabilitated a 500 kW transmission line to Russia; plans to operate a 500 kW transmission line to Armenia are now being implemented, according to Kaladze.
From all these planned and existing transmission lines, Georgia could connect South Caucasian countries' energy systems and become an "energy bridge" in the region, he stressed.
Looking ahead, after implementing the Black Sea Transmission Network (BSTN) project now it was time to create a regional energy market together with Russia, Azerbaijan and Armenia, said Kaladze.
The BSTN project outlined the rehabilitation and expansion of the existing transmission system to facilitate the transmission of electric power from Georgia to Turkey.
The 500/400/220kW Akhaltsikhe substation was officially commissioned on December 10, 2013. Construction of the substation was implemented under the framework of the BSTN project, which alongside this facility included several other important components –the construction and rehabilitation of overhead transmission lines Vardzia 500 and Zekari 500 that interconnected Akhaltskhe, Zestaponi and Gardabani substations, as well as the construction of a new 400 kV overhead line from Akhaltsikhe substation to the Georgia-Turkey border.
The total contract price of the Akhaltsikhe substation and back-to-back station amounted to ˆ158.8 million. The BSTN project was financed using ˆ80 million loans each from the European Bank for Reconstruction and Development (EBRD) and the European Investment Bank (EIB), and a ˆ100 million loan from the German Reconstruction Credit Bank KfW.
The Government of Georgia provided a co-financing contribution of ˆ53 million, and ˆ8 million was granted by the Neighborhood Investment Facility (NIF) of the European Union (EU).
Work began on September 1, 2010 and was completed in April 2013. Commissioning tests of the back-to-back station were performed at the end of November 2013.
Georgia was the first country in the Caucasus region to install a high-voltage direct current station (HVDC).
(Agenda.ge)