Modern minibuses transport disabled youth to Tbilisi schools
Tuesday, December 8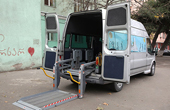 Tbilisi City Hall is launching a new bus service that will safely transport disabled youth to school on specially equipped minibuses.
At this stage, 14 pupils with special needs studying at four public schools in Tbilisi will be able to use the adapted minibuses.
Tbilisi City Hall purchased two fitted-out minibuses within the Access to Inclusive Education program. The city authorities and the Ministry of Education and Science of Georgia then selected four public schools in Tbilisi - N173, N87, N177 and N191 – to be served by the minibuses.
"The 14 students at the four public schools will be able to use the adapted transport for free.
Tbilisi City Hall cares about people with disabilities and is trying to create an adapted environment for them," said Tbilisi Mayor David Narmania.
"Next year we will purchase six more adapted buses and will completely solve this problem in the capital city."
Meanwhile, other plans are being put in place to transform Tbilisi into a more disability-friendly city. Narmania said a Three Year Action Plan adopted about two weeks ago envisaged the renovation of 315 municipal buildings and infrastructure in Georgia's capital. Narmania said 14 million GEL will be spent on these activities.
(Agenda.ge)