Georgia not to buy gas from Russia if Azerbaijan, Turkey complete Shah Deniz ahead of time
Tuesday, December 8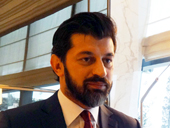 If Turkey and Azerbaijan are able to increase the pace of the pipeline construction from the Shah Deniz field, Georgia won't have to buy Russian gas, Georgian Minister of Energy Kakha Kaladze said according to the Georgia Online news agency.
Kaladze made the remarks on Dec.4 at the Energy Charter Conference.
He said that if Georgia needs additional volumes of gas until 2018, the country will purchase them from Gazprom.
"If in 2018 we are able to receive additional volumes of gas, we won't have to purchase additional volumes from Gazprom in 2018," said Kaladze. "However, we'll surely receive a 10 percent cut for the transit route to Armenia. But if we need to purchase natural gas until 2018, we'll do it."
(Trend.az)