A demonstration has been held in Georgia's capital under the banner "Sidewalks for Pedestrians"
By Messenger Staff
Tuesday, December 8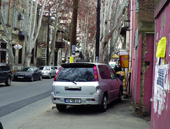 The rally participants protested against the frequent violations of pedestrians' rights by drivers, as well as a draft to ease sanctions for drivers proposed by majority MP Soso Jachvliani.
In particular, the legal initiative aims to ban the City Park company to immediately remove a vehicle parked in the wrong place.
The protesters said that the main legal initiatives are for drivers, when there is not enough space for pedestrians to freely walk on the sidewalks as the pathways are full of cars.
The draft initiators confirmed that the bill was mainly for drivers, but said they could bring some amendments in the initiative with the interested sides to protect both drivers and pedestrians' rights.
It is a well-known fact parking is a problem in Tbilisi.
The Tbilisi Mayor's Office has many times revealed its negative position towards the City Park Company, which was introduced in Georgia under the previous state leadership.
The Mayor's Office also stated that it could not suspend a deal with the company, as in this case the Tbilisi budget will have to pay 25 million GEL as a fine.
Parking on sidewalks could not be discussed as a particular problem, as it is a small part of bigger overall problems which the capital's leadership is failing to settle.
There is a large number of cars in Tbilisi, with heavy traffic, poor infrastructure in many areas and a lack of suitable parking space.
Initially, as a minimum, the legislation must be very strict to the drivers, who park their cars on sidewalks even when there is a viable alternative.
The Tbilisi city administration should somehow launch projects that will ensure more parking areas; these could be multi-storied constructions or other types of parking facilities which are in use abroad.