Gov't introduces tougher food and hygiene standards at schools and kindergartens
Tuesday, December 15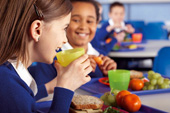 The Government of Georgia is introducing tougher food and hygiene standards at all kindergartens and schools in Georgia.
The country's Prime Minister, Irakli Garibashvili, addressed state, private and public agencies and schools themselves to "adequately and strongly react" to all cases wherein schools and kindergartens have violated food and hygiene standards.
"We want to maximally strengthen control on food and nutrition at schools and kindergartens. All institutions must be checked thoroughly to ensure they meet appropriate standards," said Garibashvili.
The Ministry of Agriculture will lead the inspection process. Each case of violations must be appropriately addressed," he said.
Food safety and hygiene rules only came into force in Georgian learning institutions in 2013. Before then no controls were in place, meaning schools and kindergartens were able to serve food of any standard and create their own hygiene rules, if any.
As a result of having no rules and enforcement, there are no official statistics that show rule violations.
The Ministry of Health has already produced mandatory standards for schools, while similar regulations are currently being drafted for kindergartens.
All kindergartens and nearly 60 percent of schools nationwide have been inspected for hygiene and food safety by experts.
A special group comprised of representatives from the Ministry of Education and Science, Ministry of Agriculture, Ministry of Regional Development, National Agency of Food Safety and staff from other relevant Government departments are involved in the inspections.
(Agenda.ge)