Azerbaijan, Georgia, Turkey discuss defence cooperation in Istanbul
Monday, December 21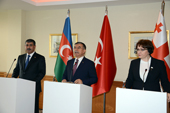 Istanbul hosted a trilateral meeting with the participation of the Azerbaijani and Georgian defence ministers and the Turkish minister of national security, the Azerbaijani defence ministry said Dec. 17.
Colonel-General Zakir Hasanov, Tinatin Khidasheli and Ismet Yilmaz discussed the prospects of developing defence cooperation in a trilateral format, regional security and measures of ensuring the stability and economic development, as well as other issues of mutual interest.
The relations of the three countries together now form a significant strategic partnership. These relations reflect the will of the three nations, playing an important role in ensuring peace and stability, sustainable development, and the welfare of the three nations.
A briefing was held for the media following the talks. The ministers informed the media about the results of the trilateral meeting.
(Trend.az)