Russia is ready to remove visas for Georgian citizens
By Messenger Staff
Monday, December 21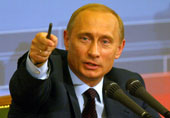 Several days ago, Russia's President Vladimir Putin has announced that his country was ready to discuss "visa-free travel with Georgia."
The Russian President made the statement just prior to the release of a positive European Union Commission report for Georgia's visa-liberalisation with the European Union (EU states.
It should be stressed that Georgia has a visa-free regime with the Russian Federation, but Georgian citizens still need a visa to travel to Russia.
The statement was immediately responded to and welcomed by the current Georgian government.
Prime Minister Irakli Garibashvili stated that Georgia was ready to continue its "pragmatic policy with Russia" that meant regulating relations with the Russian Federation despite the serious territorial controversies, as Russia occupies 20% of Georgia's land.
The opposition and some Georgian analysts believe that Georgia should select one approach, and specify its definite policy to the country and decide whether Russia is an enemy or a potential partner.
They claim that Russia has always used economics to create security problems.
However, the majority and other analysts believe that it is better to speak with the enemy, especially when the enemy is powerful, rather to confront him.
They also claim that common economic intentions decrease the risk of conflict.
It is likely that Russia's President made the statement deliberately at the same time as the European Commission's report on Georgia.
Now that Georgia has gained a positive evaluation from the EU, it will be interesting to note Russia's reaction to Georgia's visa-free regime with the EU.
Together with visa-free travel with the EU, the Georgian Government also speaks about such possibilities with the United States and also continues to deepen relations with China.
If Georgia really becomes an integral part of the globally-important Silk Road route and ensures closer relations with Europe and America, it might be hard for Russia to be aggressive towards Georgia, as Georgia will be not only be a part of world politics but also a serious link in the economic chain of the international economy.