Georgia provides 58m GEL for Black Sea coastline protection
Tuesday, December 29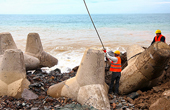 A section of coastline and roadways in Georgia's Black Sea towns - Senaki-Poti-Sarpi - will be soon corrected and restored.
More than 58 million GEL was allocated from the state budget to finance the coastline protection project. The project is expected to be completed in 2016.
This investment will help halt coastal erosion and rock fall at one of the country's most popular summer seaside resort areas.
Georgia's Ministry of Infrastructure and Regional Development has already rehabilitated 100 metres long overpass and utilized protective netting to control the rock fall and to prevent rock from falling off the rock face.
The Ministry announced intensive rock fall was dangerous for the passengers traveling across this territory. Meanwhile, as a result of the storm waves, the lower slope of the road was being washed which created another problem for the passengers.
(Agenda.ge)