Parliament Chair speaks about GD election list
By Messenger Staff
Tuesday, December 29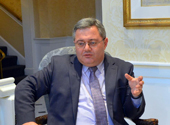 Georgia's Parliament Speaker, Davit Usupashvili, has spoken about the Georgian Dream (GD) coalition election list to the Kviris Palitra newspaper.
In his interview, he stressed that the country's leading political team was in search of "appropriate candidates" for the GD election list for the upcoming 2016 parliamentary elections.
However, he has also admitted that Georgian Dream might be represented with the same people for the race if the coalition failed to discover better nominees.
It should be stressed that the current staff of the country's legislative body has caused question marks, as there were quite many individuals in the body who knew little about national legislation.
It can be taken into account that when Bidzina Ivanishvili decided to create the coalition and defeat the United National Movement (UNM) - which was a very hard task at the time, the UNM having been in government since 2003 - he did not have much time to look for the best candidates for the election list.
At that time, the main focus was on the people who were more known and appreciated by the public.
However, after the elections, when the people became more involved in Parliament's activities, both Ivanishvili and Usupashvili – along with many others - admitted there was a shortage of people in the government who were fully aware conversant with the law.
The general public attitude to the issue is the same. Various public polls reveal that people are in want of more qualified lawmakers.
Indeed, the country has a problem of qualified staff, but the current Georgian Parliament consists of just 150 lawmakers, and it would be surprising if the GD coalition collapsed and was replaced with people with better experience and qualifications compared to the people currently occupying seats in Parliament.
If the GD felt that there would be better staff in the legislative body, it and other parties must also think how to practically create a better Parliament.