Georgia enjoys first Technology Park, offering platform for creative thinkers
Monday, January 4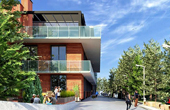 Georgia is stimulating the development of entrepreneurial, knowledge-based, small and medium-sized enterprises (or SMEs) in the country by building the first High Technology and Innovation Development Centre.
The new facility, commonly referred to as the Technology Park, is expected to promote scientific research and innovative ideas in Georgia as well as create a partnership between innovation and technology.
The new complex will provide resources for start-up and small-sized companies that have not been accessible before. The Technology Park will play an important role in the creation of new companies, current business development, commercialisation of innovations and creation of high-paid jobs.
The Technology Park will also give Georgia an opportunity to create local branches of international companies and attract foreign investments.
The new facility will consist of small incubators as well as educational centres and laboratories, large offices for companies, co-working spaces, conference rooms, recreational areas and more.
Building the Technology Park in Georgia was an initiative of former Prime Minister Irakli Garibashvili. Through the initiative of Georgiaís Prime Minister we launched the Innovative Strategy 2020. This techno-park is part of the Strategy.
The project was carried out by the Innovation and Technology Agency of the Ministry of Economy.
The facility was built on Innovationís Street, 7 in Okrokana - an area spanning 10,063m2 in Tbilisiís recreation area near Mtatsminda Park, within 10 minutes drive from Freedom Square.
(Agenda.ge)