Azerbaijani large floating drilling rig to be ready for operation in summer
Monday, January 4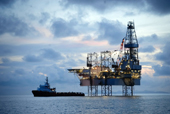 The Azerbaijani floating semi-submersible drilling rig Istiqlal is being repaired at the Caspian Shipyard. It is being upgraded by about 15 percent, a source on the oil and gas market told Trend.
Repair work began in July.
"The preparation for overhaul took a lot of time," a source said. "Currently, equipment and modules of the platform are being separately upgraded. The repair will be completed in the third quarter of the year, most likely, in summer. After several technical tests, the Istiqlal drilling rig will resume operation."
The Istiqlal rig is used for the operation in the Azerbaijani gas condensate field Shah Deniz.
Caspian Drilling Company (CDC, 92.44 percent of the equity is owned by the Azerbaijani State Oil Company (SOCAR) is the operator of the Dede Gorgud drilling rig.
(Trend.az)