International Arrivals Up 6.9% to 5.89 mln in 2015
Tuesday, January 5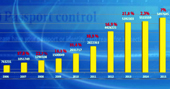 Visits to Georgia by foreign citizens reached 5,897,685 in 2015, a 6.9 percent increase compared to previous year, according to data released by the Interior Ministry on January 2.
The Interior Ministry compiles statistics based on border crossing data.
In these data, travellers entering into Georgia and staying in the country for more than 24 hours are classified as "tourists".
Of the total 5.89 million arrivals registered in 2015, 2,278,562 were identified as "tourists", a 2.2 percent increase over 2014.
Citizens from Georgia's neighbouring states make up the largest share in total arrivals.
Armenian citizens led the pack in 2015 with 1.46 million arrivals, up by 10.7% compared to 2014, followed by Azerbaijani citizens with 1.392 million, up by 8.5% year-on-year; Turkish citizens – 1.391 million, down by 3.5% y/y (arrivals from Turkey led the pack in four previous years); Russian citizens – 925,061 (14% y/y increase); Ukrainian citizens – 141,656 (1.3% y/y decline).
The number of visits to Georgia by citizens of from the EU-member states increased 4% y/y to 240,838 in 2015.
Georgia's newly developed first long-term strategy for its tourism industry targets to achieve 11 million international arrivals by 2025 and to increase tourism receipts from the current level of USD 1.8 billion to USD 5.5 billion.
(Civil.ge)