Georgia and Azerbaijan to cancel customs deposits
Tuesday, January 5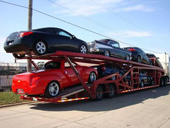 Georgia and Azerbaijan are negotiating the cancellation of customs deposits on cars.
Oxu.Az reports that the due statement came from chairman of the State Customs Committee Aydin Aliyev.
He said this issue was raised by Azerbaijanis living in Georgia as part of President Ilham Aliyev's visit to this country.
"This was a forced step. Agreements have already been reached with the borderline troops' command in this sphere. We hope that the agreement on cancelling the deposit issue will be reached in no later than 15-20 days," Aydin Aliyev said.
(News.Az)