When will Tbilisi become friendly for people with disabilities?
By Messenger Staff
Tuesday, January 5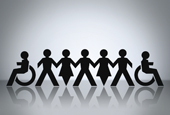 Tbilisi Mayor's Office claims that over the next few years Tbilisi, will become fully friendly for people with various disabilities. However, the pace towards achieving the aim is quite slow.
There are some issues that need to be urgently addressed.
The current state leadership claims that their "major value" is human rights.
People with disabilities are an integral part of public and their problems and necessities require timely reactions and responses.
Tbilisi lacks ramps for people with disabilities. There are ramps installed in some areas that are completely useless.
It means that they were installed without any proper knowledge, and their dismantling would cost additional expenses for the local budget.
A major part of state and private institutions are not designed for the category for people.
They can also hardly board public transport, neither are entertainment complexes catered or the disabled.
Herewith, there is still such a category of individuals who have no mind as to how to behave around people with various disabilities and act with them as if they were ill.
A significant part of the public still does not know that "there are no restricted abilities."
Thus, various steps also need to be taken in order to raise public awareness to the issue and introduce better inclusive programmes and learning at educational institutions.